Rent Storage
Rent a storage unit online today. Just browse our available units below and then hit the "rent now" button. This will walk you through a 3 step process where you:
1. Create your account and agree to the terms.
2. Enter your billing information.
3. Review and Confirm the rental information. YOU CANNOT MOVE IN THE UNIT UNTIL YOU MEET WITH US TO SIGN THE LEASE AND GET THE UNIT UNLOCKED FOR YOU. PLEASE CALL THE OFFICE AT 815-288-6977 MONDAY THRU FRIDAY FROM 8:00 A.M. TO 4:00 P.M.
Once you have completed these steps you will be emailed some instructions on moving in. Please contact us with any questions.

10 x 15 x 7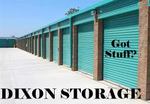 7' Rollup door, concrete floor.
10 x 16 x 7
7' Roll-up door, concrete floor.
10 x 20 x 7
7' Roll-up door, concrete floor.
10 x 24 x 7
7' Roll-up door. Concrete floor.
18 x 20 x 7
Our largest individual storage area! Has concrete floor and 7' roll-up door.
10 x 26 x 15
Large warehouse area, divided into four spaces, each approximately 10' x 26', but all share one access door. Perfect for boat or camper storage.